Have you set your life goals?
Are you achieving everything you would like to achieve?  Do you feel your life is complete, and there is nothing more you desire?  Is everything perfect for you?
If you answered "yes" to these questions, move on: but first, tell me how you got there!
If your life were ever truly that perfect, there would be no point in going on living — the whole point is to keep making it better!
I was just reading Juniper Currie's blog at http://junipercurrie.com/mindset/life-goals-and-dreams-five-steps-to-achieving-them/, where she sets out a five step life plan that anyone can follow.  I don't know about you, but I find this is something I really need.
Every year, at about this time, I look back on my achievements for the year and wonder what went wrong!
I suggest you read her blog, because she explains the reasoning behind the steps much better than I could.  In this post, though, I'll summarize the steps and add my own comments.
As with everything, the hardest task is to get started.  So where do you start?  She suggests starting with a eulogy.
1.  What would you like people to say about you at your funeral?
In other words, if you could be there and look back on your life, what would be the most important achievements for you?  What sort of person would you have been?  How would you have spent your time?
We all have greatness inside us, but most of us fail to recognize it and to live it.  Achieving that greatness is our only purpose in life, and it's different for each individual.  The secret is know where our greatness lies and to express it.
As Juniper says: "The key is: start living your life so that you will actually accomplish your goals and remember to enjoy every moment."
2.  So how do you set these goals?
She suggests you start with family, travel, professional, personal development, mindset, education, spiritual, hobbies, charity, and recreation. You may think of more – the more aspects of life you touch on, the fuller your life will be!
I was listening yesterday to a recording that Mark Victor Hansen made back in the 90s.  He claims to have more goals than anyone: hundreds of them, in fact.  For me, that would be far too many.
3. Now fine tune your list.
Fill in the details and condense as necessary.
My attention span only allows for about three goals at a time, so I would combine several of the topics that Juniper suggests.  Since travel is a hobby for me, I might combine travel, hobbies and recreation into one category, but still have more than one goal for them.  In the end, it's whatever works best for you – they're your goals!
4. Next, build a timeline.
Check through your list and decide what you want to achieve in the next 10 years, 5 years, 2 years, 1 year. How about this month? Now you have a ten year plan!
By this time, your goals will be S*M*A*R*T goals – Specific, Measurable, Achievable, Risky and Timely.  "Risky" is where most of us tend to slip back, but remember these goals are meant to reflect your dreams.  And it doesn't cost any more to dream big than dream small, but it's a lot more rewarding.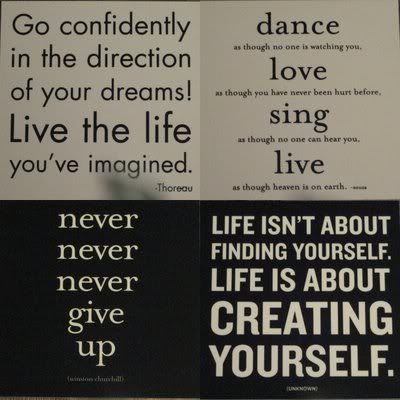 5. Finally, you reach the most important step: Take ACTION!
Break your monthly goals down further and create a to-do list for this week. What can you do each day to further your goals? If you can get one thing done on your list, then you're a step further to making those dreams become reality!
Setting Life Goals is a task that most of us shy away from (at least, I know I do!)  – Juniper shows us how to go about it in such a way that these goals are in alignment with whom we are and whom we choose to be.  Too often in the past I have set goals because I believed they were what I should do, rather than what I chose to do.  I also tend to forget that life goals change over time: sometimes because we reach them and sometimes because our desires change.  Nothing wrong with that: that's what growth is about.
Thank you, Juniper, for this excellent post.  Now all I need do is act on this advice.  How about you?