If you never improvise, you get stuck in a narrow set of ideas about how to play the pieces you know        
So wrote Doug Samuelson in an article titled "The Piano Teacher's Parable".  The lessons apply to our lives, especially our business lives – not just to playing the piano!
"Arthur Rubinstein got a big break early in his career when another pianist got sick.  Rubinstein was offered the chance to fill in — but it meant he had to learn the Grieg A-minor piano concerto in less than a week … and he did it."  It was not the best work he had ever played, but it was important to get fairly good quickly.  Sometimes you need excellence, but sometimes you only need facility.
I find it easy to get stuck in learning to do one thing better and better while missing the opportunities that keep appearing.  If they don't fit in with my plan, I choose to ignore them.  Taking short cuts can feel uncomfortable, like playing a piece of music that you don't know well, but often the short cut can be the one thing that transforms your business or your life.
This is not to say that learning skills is unecessary: think how many hours a musician will spend practicing one piece until he or she is satisfied with it.  The problem comes when we are so focused on learning that we don't see an opportunity that is right in front of us.  We become like a fisherman who is perfecting his cast by practicing over and over while the fish are behind him!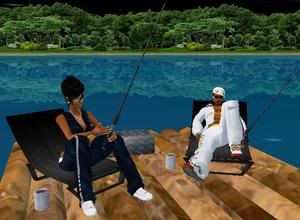 "It's a balance, and you need to keep doing both" says Doug Samuelson.  "If you never take a piece all the way to perfection and play it in public, you lose some of the technical skill that makes your improvisation better." Wow, what a lesson for network marketers — this is the balance that makes all the difference to our business!
Yes, we need to know our product, know our back office, be able to show people what it is we offer.  This takes time to learn and the learning process never ends.  But we need to be open to the opportunities that present themselves to us even when we don't know it all.
For me, a huge advantage of my business is being part of a team.  Unlike the solo pianist, I don't have to go it alone.  There is always someone on my team that I can call on to play the pieces I don't know.
Now, if I can just keep my balance …